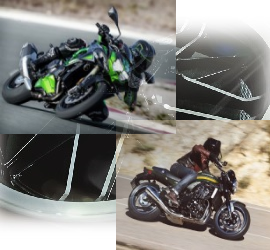 MEETING CUSTOMIZED MARKET NEEDS & WINNING RECOGNITION FROM OVERSEAS MANUFACTURERS
True to its name, our company is rapidly expanding into the motorcycle wheel market.
The motorcycle market is lately showing a broad trend towards customization.
Motorcycle wheels are known to be an especially high-demand product where a great deal of attention is suddenly being focused.
Our company manages to stay well ahead of rival manufacturers by turning out a continual supply of new products that satisfy new market needs.
These include 21 inch wheels and highly finished plated parts that are still scarce on the market.
Based on current developmental planning, we are expanding our product supply to overseas manufacturers such as Polaris and Triumph.
We are always at work, promoting our own in-house manufactured and constantly making inroads in overseas markets.